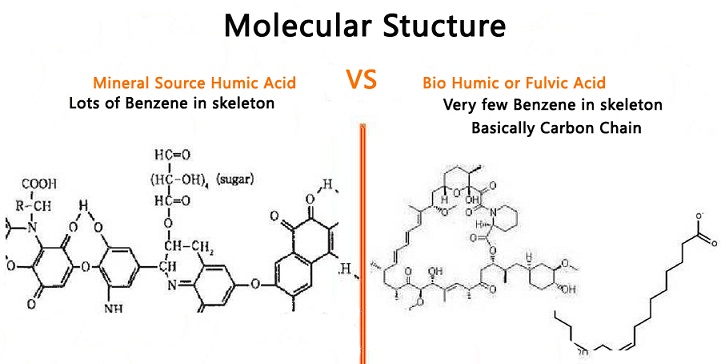 Mineral Source Humic Acid VS Bio Humic Acid
Humic acid refers to a group of humic substances with large molecular weight in GB/T 35112-2017, which can only be dissolved in dilute alkali solution, but cannot be dissolved in acid and water. Humic acid is a black or brown-black amorphous organic weak acid mixture with aromatic and aliphatic groups and functional groups.
The standards classify humic acid into mineral humic acid and bio humic acid. What is the difference between them?
The source of raw materials and production process is different.
Mineral source humic acid based products are prepared from weathered coal, lignite, peat, and other minerals through necessary industrial treatment (generally chemical treatment with nitric acid or alkali extraction). Bio humic acid based products are produced from livestock and poultry (pigs, cattle and sheep, etc.) feces, plant residues (orange stem, stem, leaf, etc.), sugar, and brewing waste through a fermentation process.
Different components and properties. Mineral source humic acid based The raw material of the product is weathered coal or leonardite, its composition, morphology, structure, and property are very close to soil humus. It also contains rich phosphorus, potassium, calcium, magnesium, sulfur, iron, molybdenum, silicon, and other natural mineral nutrients. It has stronger chemical and microbial inertia, controllable quality, and reliable effect, which is very suitable for adding to fertilizer products. Many standards of the fertilizer industry require humic acid in fertilizers to be derived from mineral humic acid. Due to the particularity of raw material and production process of bio humic acid based products, the finished products contain not only humic acid but also lignin, cellulose, amino acid, and other groups of active ingredients, with strong physiological and chemical activities.
Both mineral source humic acid based products and bio humic acid based products can increase organic matter, promote plant growth, and improve soil micro-ecological environment and crop quality, but there are some differences. The quality of mineral source humic acid based products is controllable, the effect is reliable, the active functional group is more, the application amount is less, and the disadvantage is the high price. Bio humic acid based products have a wide range of sources and low prices and their disadvantages are a large amount of application, poor stability, easy to produce miscellaneous bacteria (diseases), and so on.